Chinese New Year Curriculum: January is the month for some fun classroom celebrations! The Chinese New Year starts on January 23rd this year. Use the Chinese New Year in your classroom to supplement your social studies lessons with lots of fun classroom activities, crafts, poetry, and more.
Reading
First, we read
Chinese New Year
by Kate Marsico.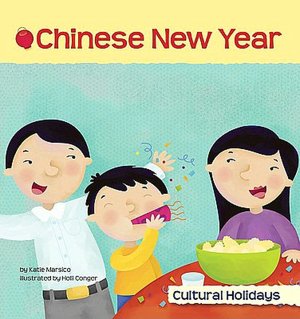 I really enjoy reading books from this Cultural Holidays series. Some of the other books in the series cover Cinco de Mayo, Christmas, Ramadan, Hanukkah, and Kwanzaa.
The reading level is just right for 2nd graders and the book covers many aspects about the Chinese New Year with enough detail to make it interesting for children. I'm one still searching for a social studies book that engages and teaches with more than just a lot of pictures and a few words, so these Cultural Holidays books do a great job to supplement our social studies curriculum.
Art
This year is the Year of the Dragon!!! We learned about the Legend of Nian. Nian was a terrible dragon who, on on the Chinese New year, ventured into villages and ate any person he saw. Soon, the villagers discovered that this dragon was afraid of loud noises and red, so they started shooting fireworks and covering the village with red including red lanterns.
For our lesson today, we used a small paper bag, glue, and construction paper to create our own Nian. The directions were to be creative and have fun.
Writing
To teach about point of view, I've got a great writing prompt to go along with this topic:
Imagine that you are Nian. You are hungry. It's the beginning of the Chinese New Year. You are going to the village for your yearly snack, but something if different this year. What do you see?
Poetry
Let your students make lots more noise when they write couplet and post them on red paper. The Chinese New Year books shares more about couplets too. A couplet contains two lines of poetry that are about the same length. They don't have to rhyme, but it's better if you can make them rhyme. The students should write a couplet about the Chinese New Year, Nian, Red, or The Year of the Dragon.
Let your students read these poems to try to scare their Lian puppets away.
Here's a site with some sample student couplets for your students to use as inspirations:
Mrs. Barnes' class poems
Science
Pat yourself on the back. You are really teaching across the curriculum today! The Chinese New Year is based on the moon cycle. Use this resource for your students to learn more about the phases of the moon.
The Phases of the Moon
.
Check out my Teachers Pay Teachers store Chinese New Year Curriculum: Reader and Math Unit here:
Enjoy and Happy Chinese New Year